Over a couple glasses of wine, we got to know local musician Elisabeth Hunstad.  Without further ado:
You graduated in 2009 from SDSU – have you been a full-time musician since then?
Elisabeth: (nodding) I would say.  I mean, I've always worked towards it and I've had other jobs – and I still do other things sometimes on the side just because I like the variety, but this is my full-time gig.
I'm trying to think when it really picked up… it's been several years now that I've had gig after gig, which is really nice – I'm grateful for that.
What does full-time look like, how many gigs do you do a week?
I would say my busiest weeks get up to 6 gigs.  Then it becomes a personal battle of "can I do that without getting hoarse?" and hauling all my equipment – a lot of people are kind and will help me, but I'll get on a roll sometimes and I'll just go from gig to gig, so that's a work out (laughs).  I kind of like to be more around 2 or 3 a week, I think that's pretty good.
And then in the days – that's the biggest thing, it's like that mystery of what do we do in the day?  But I do love the bookwork and all the boring behind-the-scenes stuff, sending out agreements – and my clients are awesome, they're patient with me, because I'll be like "believe me, you're on the calendar, I'll send out the formal agreement" (laughs).
And then any music I have to learn, and that type of thing.
Do you play mostly weddings, or do you have a good split between weddings and corporate events?
I think it's a nice mix.  Corporate, weddings, parties, those things, but then that compared to public gigs – I think it's pretty nicely balanced.  It's nice to see people for something more intimate sometimes, and then be out like "hey I was walking by and there you are!"  Yeah, I like the variety.
And I would say too, that my favorite part about what I do are the people I meet, because I wouldn't have a career if I didn't have that.  What's the point of music if you don't have people to connect to it, and I always feel like it's the best way – everyone can connect, all backgrounds, all walks of life.
I've built a lot of nice relationships with what I do.  And then that leads to more work – and being open to what different types of gigs come about too, I guess.
But for me it's about the people I meet, and then hopefully finding music they like, and we do a lot of requests shows – so that's another thing I kind of want to talk about, just the direction of where I think my brand Elisabeth Hunstad – it's so funny to say that just because it's my name (laughs) but you know, that's how I see myself as my brand and where I'm going with it.
I've been a solo artist, I've had fans and stuff, but I got into a Dueling Pianos thing for a little bit and that kind of taught me how to just pull up songs on the spot.  It doesn't mean it taught me like "I got it down," because I don't (laughs).  But I got more comfortable with being uncomfortable – some of my colleagues have put it that way, and I like that.
From that point, I didn't want to just limit it to pianos, why can't it just be whatever musicians and call it a request show?  So we tell the client that we'll be a request show if they want, so they can drive the direction of it and it's fun.  That's just one of the things that we offer.
Are there specific musicians you work with on those shows then, or is it kind of whoever is available?
I've got a nice list of people that I call on.  Micah Wetzel, Nick Burke, I've done a lot of work with. Chris Champion, he can play anything but I would say he's definitely a jazz player and so we'll do Jazz Nights.
It just can be whatever, it can be background, or we can go to the type of venue where they want to interact and request songs.  So it just depends.
And as I'm telling you names, I'm forgetting people and I don't mean to leave anyone out!
I guess I've gone from kind of playing gigs solo, and then I've had a regular partner, and that partner has been someone different over the years, but kind of your "go-to" guy.  And I've reached a point now where I'm trying to have – oh, Seth Curl's another one, he's a drummer and we like to do shows together too – but where I want to be able to just have kind of a list or a database or whatever (laughs) of people I can just look up.
It's been really nice, because it gets people that go "I hear you all the time," hopefully to go "well, it's different every time."  And so it's different music, different musicians, and not being limited to having just one regular go-to person.
If we want to get together for a band, we all can.  That's what my hope is with different musicians, is being able to play together and people go "Oh, I didn't expect to see those two together!"
You do all of your own booking and accounting, how did you learn to do all of that?
I always think that's the stuff that I probably need to work on more – I could always do more of the promoting, I don't always think to do it.
But my degree's in music merchandising from SDSU.  I always knew that I wanted to be a performer. You don't need a degree for that, so I thought "well what can I go into?" I didn't feel called to being a teacher. Both my parents were teachers and I just thought, "I think I found something else."
So, the business end of it taught me a lot about how to market yourself, and do the spreadsheets.  But a lot of it's just doing it, and then working with one musician, and they're like, "well you should probably get a tax ID," and then another musician going "here's how you track it," and then talk to the tax guy and he's like "this is what I need to see in a spreadsheet."
Everybody helps each other, and I try to learn from everyone I talk to.  Hopefully I do the same when people ask me questions.  And in terms of the marketing – and I know I need to do more – but one of the best things I learned with my degree in college, one of our speakers said "well, what good is what you do if no one knows about it?"
So again, connecting with people, that's my biggest goal is how can I connect to everybody and hopefully make a genuine connection, too.  I don't want people to feel like it's insincere, because I do genuinely appreciate people.
And I think we got a nice thing going with other musicians, where I try to just build that good relationship of like, "oh I can't do a gig, are you free?" and vice versa.  So, there's kind of a group of us that will reach out to each other and it's really nice.
Allen and I've done some different things over the years together, nothing regular, but we were on the same wedding and they said "oh would you sing with the band?"  And I'm like, actually I think with Goodroad, I probably can say that I can without asking them, but let me ask first (laughs) and it's so nice to have that.
But yeah, Allen's one that'll do it, Micah, Chris Reynolds, he's part of Whiskey Ridge, Janae Sturma, Rich Rislov, I mean there's a whole group of 'em – Chris Beyer's another one too – that will all just text each other "Hey, I can't do this gig, can you do this gig?"
And I've also worked as a booking agent and I like doing that.  I would like to do more of it, if it's the right thing somewhere.
Do you have aspirations of moving to a larger city?
I love Sioux Falls.  People go "why don't you live in Nashville or LA?"  Those are probably great places, too.  But this is where I'm from.  I like to travel, I'd like to visit those places, but there's no reason you can't do music where you are.  That was Prince's belief, you know, and he built that whole empire in Minneapolis.  So, it's like, why can't we do that right here in Sioux Falls, too?
Our community's wonderful.  There's so many places to play.  Where we're sitting right now, R Wine Bar, it's a new venue, but right away they've started up live music.  They're doing Thursday night jazz.  I'm actually playing here.  There's a lot of cool places to play.
Where are some of your favorite places to play?
Calico Skies Winery, because what I love about going there is the owners are wonderful. I think that culture comes from all the people who run it, and Will and Ashlee are so genuine, their family is.
It's a beautiful place.  Their product is wonderful.  They're just so kind.  It's become a place where I feel like I can look out at every table, and I know somebody (laughs). Because they have regulars, but then they have new people that come in and then they come back.  It builds a following.
A couple other places that just… maybe it's just I like the way they treat their musicians, and I'd say Crawford's, David Graham.  They're so awesome. They just take good care of their musicians.
One of my favorite stories about David was, I played there a year ago New Year's Eve – remember how cold it was? – and I wanted to get as close to the door as I could and load in as easily as possible.
And he goes "I'll show you where to park" and he hops in the car with me – the owner having to run a busy New Year's Eve night – hops in my car, shows me where to pull around, helps me load my equipment in, and as the backend creaks open, because it's so cold, like something's going to break (laughs).
Parker's, another place where, again, I just think they're so kind to their musicians.  Woodgrain, that's another one.  That's just a fun vibe every time.  I think people are just generally happy to have music when they're there.
I know I'm forgetting places.  R Wine Bar, I'm building a nice relationship with everyone here, and I'm excited for that.  I think there's a lot of good ones.
As the year goes on I always forget, because it's a holiday thing, but Meierhenry Sargent LLP puts on a Parade of Lights party, that they have in their space on Phillips.  They set up a stage in the parking spots in front, and they have my band every year, for about an hour before the parade starts.
And everyone thinks "what are you guys doing playing outside in winter?"  But it's one of – all the guys say – it's one of our absolute favorite shows. They just treat us so well, everyone has a good time. It's just a really cool thing.
There's just some of those clients that you're like "Oh I get to play there again!"  Oh, Wilde Prairie Winery, they're always very kind too.  I think it's just about how the venues treat musicians.  You know, they're glad to see you, they take care of the business end of it right away.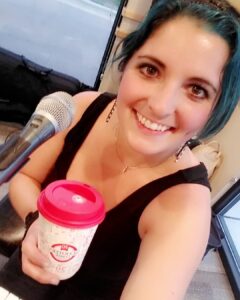 Who and what has inspired you to be a full-time musician?
I've always known that I wanted to be a musician. It's almost like it's something I feel called to. I feel like it's my purpose in this world. And so I followed that path, but I didn't know – I still don't always know what that means (laughs).
And there are times when… I mean a lot of times, to be completely honest, that I tell people I wish sometimes that I could have – with my job, that it could be a consistent income, like I know it's 'this' each month.
It's hard, you have to find creative ways to stay busy, and be open to other things on the side.  But then again with anything – and I think as humans – to have just one thing… you know, it's good to have other things that you're into.
Anyway, so I haven't always known what the path is supposed to be, just know I'm supposed to do it.  My parents have been so wonderfully supportive my whole life, and so they just said, "be in what you want to be in, if you get an opportunity say yes, you just never know."
Getting to be in different choirs, and jazz bands, and different groups like that and then going and singing at this nursing home, or going and playing at this assisted living facility – just getting out and playing and doing it.  You know, whether – cause you don't necessarily get paid right away (laughs).
I tell people I've been a professional musician since 2002, because that's when I got my first paying gig.  In high school, I started a holiday jazz group called 'Holijazz,' I just went and asked the best kids in school – I'm a sophomore asking seniors if they want to play in my band, it's intimidating (laughs) but we did it.  It was really cool and we got paid for a couple gigs, it was like "alright!"
I always laugh because there was a time where Sioux Falls Jazz and Blues would joke that I'm their poster child, and I think to this day I still live on that way (laughs).  We had All City Jazz, I got to be in that.  Got to go to different concerts of artists they would bring in.  We'd actually get to sit in on workshops and listen to the artist talk to us about what they do.
I mean, these are famous jazz musicians that were sitting and… they're just right there talking to us, it's so cool and then going to the concert and eventually getting to open for some of those artists.
I volunteered a lot at Jazzfest.  You name it, Sioux Falls Jazz and Blues did it, I probably was part of it at some point.
And then when I went to SDSU, I needed an internship with the business end of things, and so I contacted – I know they have a new director now and I hope I get to meet him soon – but Rob Joyce was always the person I worked with and I called him up, I said "do you take interns, because I have do this for my degree."
Everybody that I've met through that and different things I've done – the Jazz diversity project that goes around the state in, I think it's middle schools, that's what it was when I was interning, and seeing how they reach out to kids.
I've seen different things they do, and it inspires me to want to keep giving back to the community, and doing things to help others out… to include different musicians.  I've had kids come up and play with me.  If I know they're interested, I work it out with their families, and we learn a song and they come up and perform. I love doing that type of thing.
And like I said, I've never felt called to teaching, even lessons-wise.  But, I like to reach out if I see a kid that wants to play and I'm like, "well, I can give you performance experience, come join for a song on a gig," or a couple songs depending on their comfort zone.
I should say not just kids too, there's a gal that I want to work with who was just singing along at my gig and I was like, "you're good, your harmony is good! Okay, let's figure out what gig to put you on."
I've gone to schools and talked to groups of kids.  When I was teaching Zumba, I was in their assembly sometimes where half of it was me singing and playing, and answering questions, and then the other half, we cranked up the music and I had them all doing Zumba.
So I like doing that, going and talking to groups because I think about the people that did that for me.
Who were some of those musicians that influenced you through the Sioux Falls Jazz and Blues workshops?
One of the first ones I remember was Arturo Sandoval and he's a trumpet player.  He was sitting in his workshop with us and showing us some stuff, and he had his trumpet in one hand, and he's playing the piano with the other hand, and then he was talking to us about what he was doing, and we're like… "COOL!"
And then another one I really remember, Connie Evingson.  She sings, I remember one of my albums I really liked was her Beatles album. She does Beatles songs, but they're all jazz flavor.  And they're cool.
And just the way she talked us, and her piano player, Mary Louise Knutson, I remember thinking "a female jazz piano player, now that's cool."  Not that they're not all cool, but it's just kind of neat to see that.
One that really stood out the most would be Dianne Reeves, and that would have been my senior year of high school.  I got to do her workshop.  She's a jazz vocalist.  She was so wonderful.
I'm definitely the annoying one that raised my hand, raised my hand, raised my hand (laughs) but that's my learning style.  I learn by talking.
But what I remember about her was – I was sitting, I had my legs crossed and my arms crossed, and I was really listening to her.  One of the first things she said was "well… let's start with this, uncross your legs, uncross your arms, be more open to what I'm telling you" and that made an impact, on how I come across when I am around people, and so that was neat.
And then Rob Joyce contacted me a few days later – I went to her concert and everything – a few days later, he goes "I have something for you, if you can stop by the office."
She decided to give me a photograph of her, autographed it, "Elisabeth, my middle name sake," with an inspiring message. I don't remember exactly the message, but I think she saw in me that I can do it and maybe she just saw a connection there.  And I thought that was really cool, like wow, with all of the kids that were in there, and she decided to make a special note for me.
You said you also had the opportunity to open for some of these artists?
We opened for The Blind Boys of Alabama when I was in All City Jazz.  We opened for Joyce Cooling too.  I like her music a lot, she's got cool guitar playing, jazz guitar playing.
I was working with Brian Masek, he plays around town a lot, and he got us connected at Arnold's Park, and we opened for Kenny Wayne Shepherd, and I just thought that was really cool.
Ruth Reisenweber – can't forget to mention her name, she was one of my piano teachers.  Catharine Fellows was my first piano teacher, she was wonderful.  I've had a lot of really great music teachers, I can't even think of all of them.  And that's been a lot of my inspiration.  I thought we had awesome teachers at Whittier, Washington High School, and even back to Elementary.
Ruth was who I started with in 4th grade, and she just really got me playing in a lot of these places, in nursing homes and hospitals, assisted living places, because instead of doing a recital – and we did a couple of those – but we would go play for residents somewhere.  I'm like "this is cool."  You have people to actually play for and that's awesome.
And, there was a time when piano was going to just be my focus, I didn't want anyone to hear me sing.
Well, I mean I always was singing in choir first, but actually I didn't want to sing. I was in a church choir when I was really little and I'd sing all the time in rehearsal, but then when it came to church, I didn't want to do it, because I didn't want anyone to hear me.
My grandma sat in the front row, "Elisabeth sing!" I was like "well, maybe if everyone is singing too, they won't hear just me, so that's OK."
So, I was OK with group singing, and then I started piano, I was like "that's what I'm gonna do!" Then I got really into learning everything I could on the piano, but then my first vocal solo was freshman year in high school.
After that I realized that's where I feel my heart is the most.  The way people connect to the human voice, I think is really cool.
So the piano has become more of a means for me to accompany myself.  There's times when I'm like I should sit down – cause if I spend time I think I can do some more intricate stuff, but it's just not where my heart is as much as just being able to belt it out and use the piano to make that happen.
How did you get convinced to do that first solo?
That's a good story.  Rogene Brown, she's wonderful.  I've had really wonderful people that have inspired me along the way.  There was a solo for Wade in the Water. It's a soulful song, like gospel, I love that kind of thing.
So she was like, "anyone that's interested come stand up around the piano and we'll go over it."  So I just went up and asked about it.  It's because I wanted to try out, but I was afraid, so I went up and I asked a question and I sat back down (laughs).  So then she's rehearsing with everybody, and I went up and asked something else, and I sat back down.
Meantime everyone else is sitting in their seats just waiting to go over their parts, and then I went back up there one more time, and she's like "you come up here again, you're trying out, you don't have a choice."
So, I sat back down, and I thought, you know what, think about what mom would say or your parents would say, just do it.  And then I did it, I tried out, and then she gave me the solo!  "Whew, Ok!"  It was cool.  So after that, the rest is history.
[Rogene] just was encouraging, but then at the same time kind of pushed you when you needed a push. I'm really grateful she did because I don't – you know I've never thought about that, what if I wouldn't have gotten that solo?  I might have been like "I'm just gonna keep playing the piano."
When you're not at a gig or doing the business side of gigs, what else do you keep busy with?
Well, I've got a background of different things. I've done retail, and I used to teach Zumba Fitness.  I'm thinking about getting back into teaching my dance fitness classes.  I love how you move to music – it helped my timing so much.  It's something I've thought about, because what's a good thing to offer or do with what I'm doing?
But otherwise for fun, I love spending time with family and friends, and I have my dog, Brewster.  He's a Havanese.  They're supposed to be like, you know, maybe 9 to 15 pounds.  He's 8 pounds on a full stomach.  He's just small, but he makes his presence known (laughs).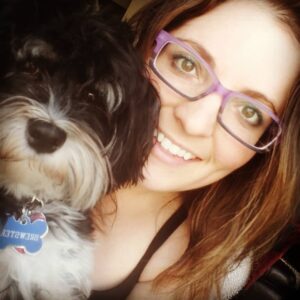 Things I like to do is just spend time with people.  And I'm kind of in transition as to whether or not I might have another job, or something I do on the side just because it's always fun to have other things.
But I'm excited, we're working on – we, Mike Dresch, another wonderful person, of Cathouse Studios.  I love recording with him.  We are doing the Reliabank jingle and nothing is out officially with that yet, but we've been working on it.
We've been working with Reid Johnson, of Reliabank, and he goes "I think it's neat if we connect it to the community, that people see that it's musicians in town that they know."
They're just so great to work, another repeat client, who I love.  They've had me for different events, like groundbreaking of their new bank and then when their bank opened, they had an open house at their new location.
So, that's another cool thing that I like doing – I think that we can always find more work that way, jingle writing or other projects.  I don't advertise myself enough in that regard, that I do jingles too.
And I love working with Mike Dresch, so I would say when it comes to that, he would be my go-to partner for that.  He's so awesome, he can just go in and put it in his computer, and I don't know as far as recording music goes, I don't even know how that happens.  He just puts this here and there, and boom, it's together (laughs).
I love singing the National Anthem whenever I get the chance.  That one, if anyone says, "do you ever get nervous?"  I don't really for much, unless it's something out of my comfort zone, like it's a song I haven't played before, and it's for someone's wedding and it's got to be just the right way.
But the anthem, can't mess that up!  Everyone knows what you do.  So I'm always totally shaking when I'm done.  But I love that feeling, it's so fun.  The bigger the crowd, it's like "oh boy, more people you can't mess up in front of (laughs)." I love it, I like the rush.
We've all had our moments where we've messed up, but you just keep going.  I was playing at Crawford's last month and it wasn't super busy, it was steady, but it was more of a quiet environment, so it's more interactive if I do talk.
I do Hallelujah. I had been singing the Christmas lyrics and I was switching back to the regular version. Well, my brain kind of got mixed up on autopilot. "Oops, forgot the words, I've been singing the Christmas one for the past two months."
And my friend goes, "I like that you do that, when it's that kind of environment, because you make people feel like 'oh, yeah, I'm not perfect, that's okay.'"  Maybe they wouldn't have noticed if I hadn't said anything (laughs), but I am able to laugh at myself.
Another thing I'm grateful that's come along with what I do, is public speaking.  You know, people are afraid of that, but that's a nice thing that just comes with it. There's a microphone in front of your face, what are you gonna do? (laughs).
I'm always grateful when people aren't afraid to tell me "that was weird that you said that."  When I started gigging around here regularly, probably 2009 or so, and people would clap for me, I would nervously say 'thank you.' Then people pointed out to me that makes them feel uncomfortable.
Because I'm feeling like 'wow, that's really nice,' I didn't know how to accept all of that praise, and so, just building a little more confidence on how to speak.
Then I found that – everyone has their thing – for me the more I am myself the better off it is for me.  Some people go with a stage name or they go with a certain persona, and I've just always – my name is who I am and what I like to use on stage.
I find if I tell a story about myself that actually happened, people laugh. I'm like "Okay, you think I'm funny, but this is actually my life (laughs)." Or they're like "ah, me too, I can relate."  So that's good, it works.
There're some people that are really entertaining, or they have all this material worked up. That's awesome. I don't know how – I don't think I could.  All I can do is speak what's actually going on (laughs).
Another example of that, and how I am is, I've gotten to play at Jazzfest a few different times, and that's a really cool opportunity.  And don't get me wrong, if I was ever offered a spot on the main stage again, I would love that in a heartbeat.
But I do say that just experience-wise, I like the second stage better, in the sense that I can hop off and go say hi to everybody and thank them all for being there.
You know that main stage, there's a fence and you're separate from everybody, which is cool because that puts you in a different spot and that's a neat place to be, but I also just – I really like getting to go out and be like, "hey ya'll, thanks for being here." Make it personable.
These TV shows [The Voice, American Idol], I've never really been interested in — I get asked that a lot, which is a nice compliment.  But I feel like you sign a contract for them to make you into who they want, and good or bad or whatever, but still it's under somebody else's – what they want.
So, it's never really interested me because of that.  Another thing, they say, "you have to have a story" and I was always like why?  Why can't you just love music?
I have found myself at a point in my life now where I do have a story.  But it's still like, everyone has something, you know.  I've known my whole life that I want to be a musician, we all have things to overcome.
But in the last year, within four months I ended up getting divorced and my dad died.  And it's just one of those things… where you think you're gonna go in life to where you are going.
Both my parents have just been so supportive my whole life.  Both are musical, too.  I think about my dad, he had a five and a half octave range. So, like a Mariah Carey range, he could go low, he could go high, and a wonderful sense of rhythm, it was just natural for him.
Another cool thing about him, he and his buddies would sing barbershop in middle school, but the teacher told him that that's not proper singing, so they couldn't do that.  I always thought "that's so cool!"
I would say I learned to harmonize from my mom, because I'd sit next to her in church and she sings a nice alto line, and I'm like "I want to do that, that's cool. She's not singing what everybody else is singing."
And I just think about that stuff, and I'm just being able to kind of go, "OK, who am I? what am I about?"
I felt really lucky the way my friends and the rest of the community has continued to support my brand.  Cause none of us are perfect, or our lives don't turn out to be exactly what we think, but that's the point that brought me to this point, and more than anything I just wish the best outcome for everything.
And It's allowed me to be closer with a lot of people, because I'm able to be more empathetic when people are going through different things.  I'm actually really grateful for everything that's come from all of it, but just to have so much at once…
And actually, my dad lived long enough to make sure that I was OK post-divorce.  And once he knew that I was, and things were kind of all done with that, he died a week later. So it's like, I'm at peace with it, but it's, you know… here we are.
So, music's just gotta keep on going, and keep building relationships with people – and I know I talk about that all the time, but that's what it's about.
The only thing permanent in life is impermanence and we're alone in this world, but we are with everybody, we're here with everybody else, trying to do the same steps to figure out our lives.
I can talk about this till I'm blue in the face or everybody else is. I just love it and it's my passion.
There's so much to it too, my thoughts on how you do the business end of it, or just different aspects of how to build the relationships.  You know, you could just go in and sing and just be like, that's it. You don't make a connection with anybody unless they come up to you.
Or you can choose to make it your night, make it memorable for everyone, cause you don't know what somebody else has going on in their day and everybody's got stuff.
You can have stuff going on in your day, but I like that theory of try to leave it at the door, and just go in there and make it a special moment for whatever it is. If it's one song at a wedding or the entire wedding, or it's 4 hours playing somewhere or just 1 hour, doesn't matter. Just make it special.
You can catch Elisabeth at Crawford's on March 3rd from 6:30 – 9pm.  Don't be a stranger – she'd love to meet you!  If you are interested in booking Elisabeth for a private event, contact her here.
Keep informed on what's going on by liking wgosf on facebook!